NIAGARA COUNTY, N.Y. - Congressman Chris Collins (R-Clarence) referred to a congressional ethics investigation as a "partisan witch hunt" on Thursday, only three days after the House of Representatives' Committee on Ethics publicly confirmed it will now review Collins' investment practices for another month and a half.
The House Ethics Committee announced on Monday it would extend its probe of Collins until Oct. 12.
That extension does not necessarily mean the committee found evidence of a violation, but the three-paragraph media release essentially acknowledged -- for the very first time -- that original complaints with the Office of Congressional Ethics (OCE) were indeed referred to the House Ethics Committee for further review.
That represents a significant development in this probe, since the majority of complaints filed with the OCE never get this far. Instead, they're dismissed without referral to the House Ethics Committee. The OCE's own website states that a referral to the committee "does not constitute a determination that a violation occurred, only that the OCE has a substantial reason to believe a violation occurred."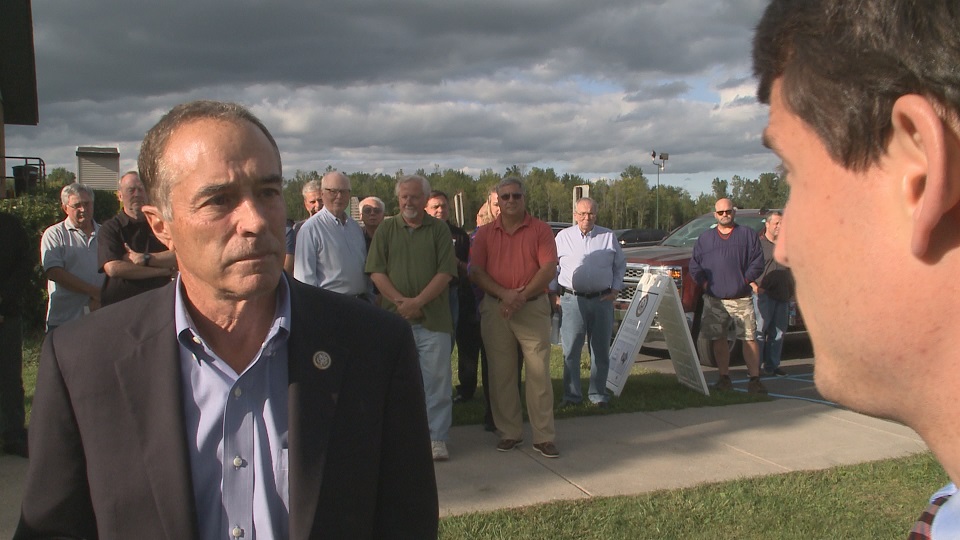 Collins, however, dismissed the House Ethics Committee's involvement as "fairly standard." In an interview with 2 On Your Side before his public appearance at the Tonawanda Sportsmen's Club, Collins continued to attack the original complainants and defended himself against allegations of insider stock trading and improper involvement with an Australian biotech company.
Two of the main complaints were filed by an advocacy group named "Public Citizen," as well as Congresswoman Louise Slaughter, a Democrat representing the Rochester area. Public Citizen alleged that Collins violated the STOCK Act by buying discounted stocks in Innate Immunotherapeutics, the Australian company where Collins is the largest shareholder.
Slaughter's allegation is that Collins wrote an amendment to House legislation known as the 21st Century Cures Act, in order to speed up FDA trials that could have helped his company.
"They can't beat me at the ballot box, so they're trying to beat me in other ways with political accusations that are absurd on their face," Collins said. "And we're confident that on Oct. 12, we'll be done with this."
Collins claimed he read the OCE's report, which has not been publicly released. According to Collins, the report made no mention of Slaughter's allegation regarding the 21st Century Cures Act, although there is no way to verify Collins' claim in this situation.
"If you read the report," Collins said, "It was absolutely a partisan witch hunt."
Craig Holman, a government affairs lobbyist for Public Citizen, said his group's complaint against Collins had nothing to do with politics.
"First of all, Public Citizen isn't partisan. We are non-partisan. His party politics isn't what concerns me," Holman said. "I was a major proponent of the STOCK Act to apply laws of insider trading to members of Congress, and I was personally alarmed when I took a look at what Chris Collins was doing with his stock trading activity."
Holman said he received no correspondence from the OCE or House Ethics Committee after he filed his complaint in January. The committee's acknowledgment of a referral and review was the first time he'd received any update.
Even after 2 On Your Side pointed out that the Office of Congressional Ethics is an independent agency with no political affiliation, Collins continued to claim that the investigation is politically motivated. He defended Innate Immunotherapeutics as an important company that sought only to develop an experimental treatment for secondary progressive multiple sclerosis.
The company is failing and will shut down, Collins said, since the treatment did not pass the Phase Two trial. Collins, who has been involved in Innate for 15 years, added that he lost every dollar he invested.
"I certainly never sold a share, so the allegations of insider trading are pretty absurd. Where I never sold a share and I lost five million bucks," Collins said. "Insider trading, you have to make a profit, don't you? By definition. I never sold a share."
But Collins has also been accused of recruiting associates and even other members of Congress -- including former Congressman and current Health and Human Services Secretary -- to buy the discounted stock in Innate. The Hill also reported in June that Collins "boasted about how much money he's made for other members of Congress by tipping them off to an Australia-based pharmaceutical company."
Collins rejected all allegations that he recruited anyone to invest in Innate.
"First of all, I never did, and certainly that has been... any thought of that has been dispelled. Certainly, I talked about this company, the potentially life-saving treatment for a debilitating disease. Proud of it. Others wanted to invest," Collins said. "I never recruited them, because there would be no incentive for me to do so. Again, political witch hunt."