HAMBURG, N.Y. - With American flags in their hands, the Patriot Guard Riders watched silently Monday afternoon as busloads of people arrived at Lakeside Memorial Funeral Home.
At the request of both the Buffalo Police Department and the family of Officer Craig Lehner, Patriot Guard members stationed themselves on opposite sides of Camp Road, maintaining a commanding presence throughout the entire duration of calling hours. They were here because they felt it was their duty to honor Lehner, who died during a Buffalo Police training exercise earlier this month.
And they felt it was their duty to protect and honor their fallen officer as his family and friends prepared to say their goodbyes.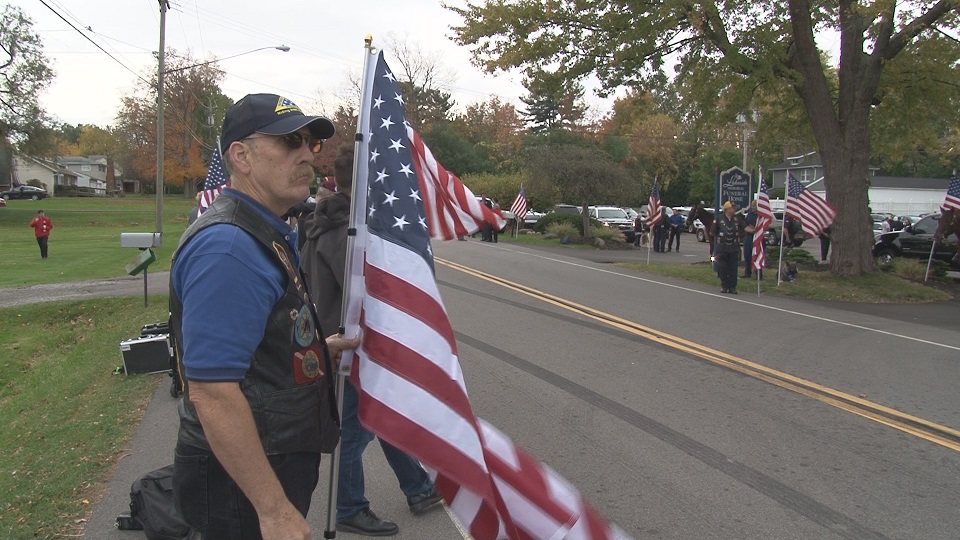 The Patriot Guard Riders were not alone on Monday. Volunteers from the SPCA brought therapy dogs to provide comfort and support to people during the visitation. Members of the Buffalo Police Department, along with officers from agencies as far away as Utica, came to pay their respects as well throughout the afternoon and early evening.
Adriana Marin, who lives across the street from the funeral home, says she's never seen so many people inside that building all at once. She felt it was important for her to stand on her lawn throughout the visitation, a few feet behind the Patriot Guard Riders and their American flags.
Marin bought a shirt to commemorate Officer Lehner, and she plans to wear it to the funeral on Wednesday.
"It's really hurtful. It's really sad," she said. "(But) I wanted to sit and see how many people were coming, and how much support he has... It's really good to see everyone out here in the community."
Charles Castiglia, the president of Lakeside Memorial Funeral Home, said this is the first time he's hosted arrangements for an officer who died in the line of duty.
But he said Officer Lehner's family has been overwhelmed by the support from not only friends and colleagues, but also from complete strangers who'd never met him.
"Our website over the last two hours has been exploding," Castiglia said. "People leaving messages, condolences, very heartfelt and very moving, who are really emotionally attached to the situation."
Officer Lehner has also been fondly remembered by people who knew him through his work in the community. Richard Hamilton, the owner of Deep South Taco, had met Lehner several times and decided to honor his memory by purchasing pins for Lehner's family, friends and colleagues. Those pins include Lehner's initial and badge number.
"Losing a friend, losing a hero, someone who was an advocate, it's a tough thing," Hamilton said.
Members of the public are invited to attend calling hours again on Tuesday. They are also invited to attend the funeral -- and funeral procession on Delaware Avenue -- on Wednesday.
The Buffalo Police Department is asking the public to make donations to the family by sending checks to the Buffalo PBA Office at 74 Franklin St, Buffalo, N.Y. 14202.
Checks can be payable to the Buffalo PBA with Craig Lehner's name in the memo, according to the PBA's website.