ORCHARD PARK, N.Y. — This demonstration was not hard to figure out.
About a dozen people calmly occupied the Abbott Road sidewalk near New Era Field on Wednesday afternoon, carrying large American flags in their hands. They did not march or chant. They just stood in place, impossible to miss from the road with all of their red, white and blue on display.
Every few minutes, some drivers would honk their horns as they passed, a gesture these protestors interpreted as a sign of approval.
"I love it," Stephanie Tessmer said as she clutched her flag with both hands. "I mean, it makes me feel like these people understand why we're out here."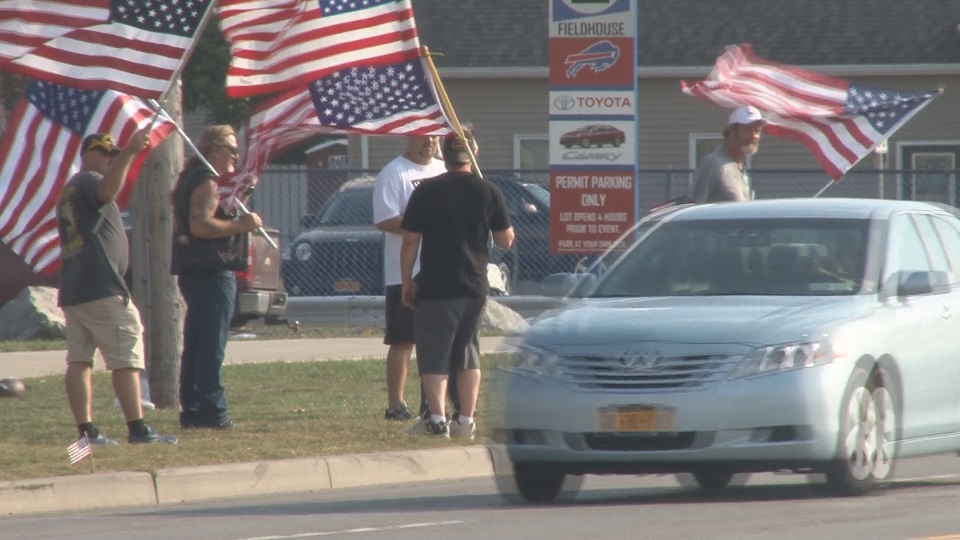 Three days after many Bills players took a knee during the national anthem, this stadium demonstration was a clear sign that the NFL protests have not faded from public consciousness. Tessmer decided to join the dissent because she has a long family history of military service, and the players' actions during Sunday's national anthem offended her.
"I've never felt more disrespected as a group of people in my life. I never in a million years would have expected that team would have come out and not stood," Tessmer said. "I never would have thought it."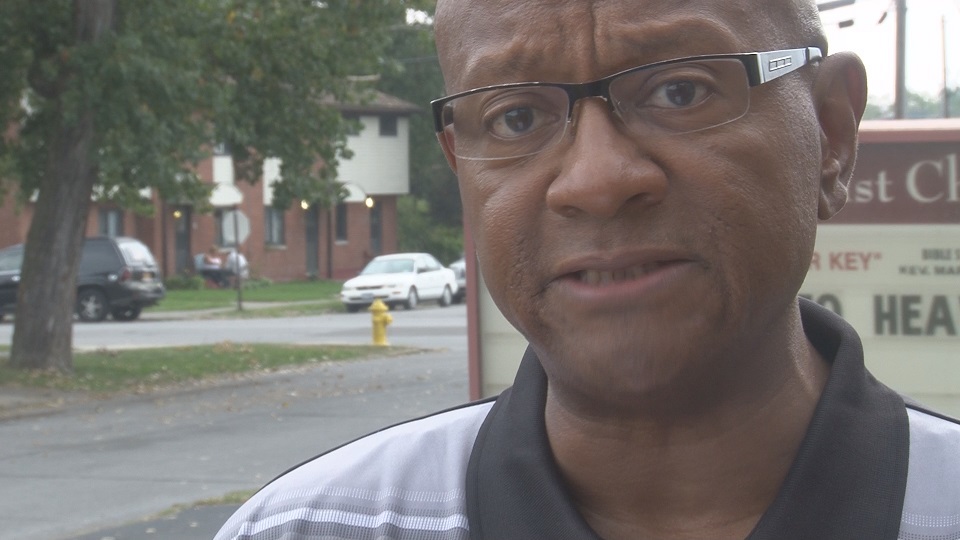 Certainly, Tessmer and many other military families in the United States have viewed the NFL protests as a denigration of the flag, the anthem, the military and the country's pride.
But it would be a mistake to present that side as a unified voice of veterans and military groups in America. Many of them have argued the exact opposite — that they fought for the players' rights to do whatever they please during the national anthem. That's the sentiment that spurred the #VeteransForKaepernick movement last year, and this week, a picture of a 97-year-old World War II veteran taking a knee was retweeted more than 168,000 times.
My grandpa is a 97 year-old WWII vet & Missouri farmer who wanted to join w/ those who #TakeaKnee: "those kids have every right to protest." pic.twitter.com/LurCj7SLUB

— Brennan Gilmore (@brennanmgilmore) September 24, 2017
Rev. Mark Blue, the president of the NAACP's Buffalo branch, served in the Air Force Reserve for 20 years. He understands the importance of the flag as well as anyone, but "it's not about the flag," he said in an interview on Wednesday outside of his church in Lackawanna.
To him, the players' decision to kneel during the anthem was a display of patriotism.
"They're making a stand that will help America, that will bring light to the injustices that have been happening in America, ever since we've been in America," Blue said. "They're using this platform to make sure they make a stand, to let people know they are taking a stance against racial bigotry, maligned across all ethnic classes and social groups."
Blue asked critics to consider for a moment what it would be like to live in the United States as a minority.
"Have you ever walked in an African-American's shoes? Have you ever been discriminated against? Have you ever been looked at in disgust?" Blue said. "If you have not faced that, then you have no right to complain about those who are making a positive protest, a positive stand on the rights and the fairness that are not being done in America."
The demonstrators outside the stadium, however, remained adamant that the NFL protests during the anthem disrespected the flag. Patrick O'Brien, whose son is in his second year of ROTC, felt compelled to join Wednesday's stadium protest because he felt it was a way to honor active, retired and fallen members of the military.
"I appreciate First Amendment rights. I'm just here exercising mine," he said. "I understand the players wanted to exercise theirs."
As his interview was winding down, Rev. Blue pointed out that he's thankful for the players' protests, particularly in response to President Trump this weekend.
He hopes the country looks back at this week as a pivotal moment in American history.
"I wish, and I pray, that this spurs a conversation, so that people can come together and we can forge ahead and look at things that have happened in society," Blue said, "and become America."