AMHERST, N.Y. -- At the Dent Neurologic Institute in Amherst, something special is happening: Hope is on the horizon for people suffering from ALS.
It's the first new drug in more than two decades for people with the debilitating disease.
It's called Radicava.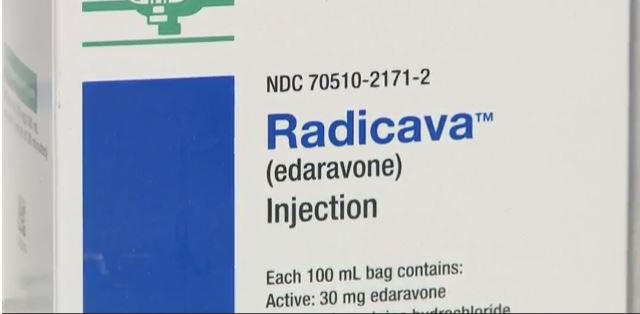 2 On Your Side's Claudine Ewing visited the Dent Infusion Center Friday, where Dent Neurologic Institute representatives say the first two patients in the nation were administered a new drug that is expected to slow down the progression of the disease.
"It appears to be incredibly safe," said Dr. Thomas Holmlund. He also said when it comes to side effects, a little bruising and maybe a headache are possible.
Maureen Pye is a 50-year-old from Eden. She was a school bus driver and active volleyball player — and then she was diagnosed with ALS. She was diagnosed in May and eager to be one of the first recipients of Radicava.
"I'm looking for something to slow this down," she said. "It's been moving too fast and I've been praying and hoping for something."
Ben Cambria is a 20-year-old college student who was diagnosed with ALS last summer. It's very rare for a young person.
"I'm optimistic, I'm happy I'm the first person in the nation to get it, I'm excited to see results," he said.
It's tough for him and his family.
"My son is 20 and like every other 20-year-old, my son has dreams and we're just hoping this drug will help him, Ben Cambria, do what he wants to do like every other 20-year-old," said his mother.
Dr. Holmlund said patients like Ben Cambria understand the new drug will not cure the disease, but can have positive effects.
"Patients understand it doesn't make you better, but it slows down, so three months from now, you're better off from this drug than if you had not received the drug," he explained. "But how much better are you, we don't really know yet."
The patients will receive 14 doses, then a 2 week break and then 10 doses every two weeks for the rest of their lives. Each dose costs $1,100.
According to Dr. Holmlund, 500 new cases of ALS are diagnosed every year in New York State. He says there are about 200 to 300 patients currently in Western New York with the disease.
While Radicava is not a cure all, it is expected to slow down the progression of the disease.
ALS, short for amyotrophic lateral sclerosis, is a neurodegenerative disease that is progressive and affects the spinal cord and nerve cells in the brain, according to the ALS Association. Eventually, those suffering from the disease lose muscle control.
To learn more about the Dent Neurologic Institute in Amherst, visit: www.dentinstitute.com.