EDEN, N.Y. -- An Eden vet clinic has posted a Facebook public service announcement about a cat that has tested positive for rabies.
The cat bit and scratched a person in the New Oregon Road area in the Town of Eden, according to the post.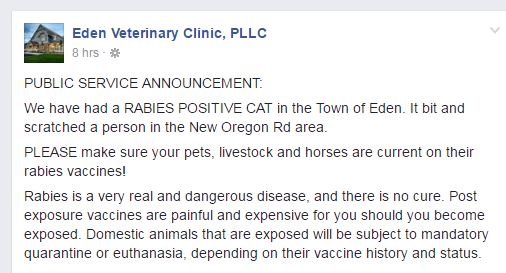 In the post, the vet clinic also asks pet owners to make sure pets, livestock and horses are on current rabies vaccines.
Rabies is a dangerous disease without a cure. People who are exposed to rabies must usually go through painful and often expensive post-exposure vaccination. Domestic animals exposed to rabies may have to be put down or put in mandatory quarantine depending on their vaccine history and status.
The Eden Veterinary Clinic, PLLC, is located at 8217 N. Main Street, Eden, N.Y.
Here is a link to the post: https://www.facebook.com/evcny