BUFFALO, NY-- The Buffalo Police Department is asking for the public's help in obtaining information about Sunday's officer involved shooting.
The department made the request on their Facebook page.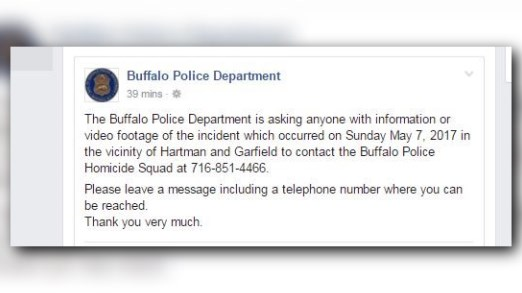 They're asking anyone with information or video footage of the incident, which happened Sunday evening around 5 p.m. near Hartman and Garfield, to come forward.
Buffalo Police allege that Jose Hernandez-Rossy fired on Officer James Aquino during a struggle, shooting Acquino in the ear. Acquino's partner, Officer Justin Tedesco, then fired on Rossy who died as a result, according to police.
Late Tuesday afternoon the New York State Attorney General's Special Investigation and Prosecution Unit confirmed it has opened an investigation into Hernandez-Rossy's death.
On Wednesday, Erie County District Attorney John Flynn held a press conference detailing the investigation process and the NYS Attorney General's office leading the investigation.
If you have any information, you're asked to call the Buffalo Police Homicide Squad at 716-851-4466.