BUFFALO, N.Y. - Hundreds of thousands of people, including many in Western New York, are anxiously awaiting a decision Tuesday by the Trump administration that may rescind Obama-era legal protections for undocumented immigrants who came to the United States as children.
Attorney General Jeff Sessions is scheduled to make an announcement about the "Deferred Action for Childhood Arrivals" (DACA) program at 11 a.m. Tuesday in Washington. According to multiple national media outlets, including POLITICO, The New York Times and the Washington Post, the Trump administration is expected to announce the end of DACA with a six-month delay in enforcement, in order to allow Congress time to find a legislative solution.
More than 780,000 children of undocumented immigrants -- known by the common nickname "Dreamers" -- have applied for DACA since the Obama administration implemented the program in 2012. It only applies to people who were brought to the United States as minors under the age of 16, prior to the year 2007. If they meet these qualifications, "Dreamers" can receive work permits or attend school in the U.S. without worrying about deportation due to their undocumented immigration status.
The Trump administration's anticipated decision has already sent waves through Washington and beyond, prompting New York Attorney General Eric Schneiderman and Gov. Andrew Cuomo to announce they'll sue the administration if it rescinds DACA protections.
Cuomo and Schneiderman said DACA applies to more than 40,000 people in the state of New York.
"It will rip families apart, sow havoc in our communities and force innocent people— our neighbors, our friends, and our relatives— to live in fear," Cuomo said in a statement. "We should not and cannot sit on the sidelines and watch the lives of these young people ruined."
It's unclear how many Dreamers are eligible for DACA in the Western New York region specifically, but local attorney and mission worker Michael Taheri said he has helped roughly a dozen or more at St. Luke's Mission of Mercy in Buffalo.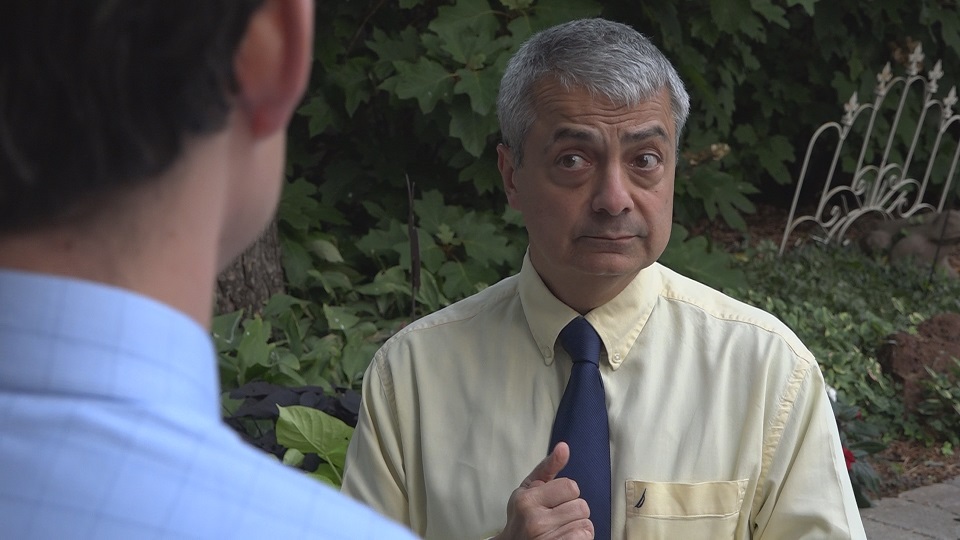 Every single one of these Dreamers, Taheri said, has earned a college degree, joined the local workforce and, in some cases, pursued an advanced degree.
Many of the Dreamers have been contacting Taheri with serious concerns about DACA over the past few months.
Ahead of Tuesday's announcement, they are now especially terrified.
"I think under a worst-case scenario, a student who's in DACA could be deported and sent back to their country-- a country they may not have seen in 15 years," Taheri said. "So it could be devastating to a family. We are aware of families who have children from different countries, so we really have to devise a strategy."
Deportation would be an extreme scenario, however, and it is not assured at this point.
Since President Trump appears to favor the six-month delay in enforcement, Congress will have time to pass bipartisan legislation that could protect children of undocumented immigrants. Many Republicans appear to be interested in finding a permanent solution, including Republican Tom Reed of Corning, who said in a statement that he feels "compassion for DREAMers who face uncertain futures due to choices not their own."
"We in Congress should take this opportunity to reform our legal immigration system, not only to find a permanent solution to the plight of these individuals but also to ensure that immigrants can contribute to our society and economy," Reed said. "We must develop policies that create both opportunity and long-term stability for our country as a whole."
Congressman Brian Higgins (D-Buffalo) and Congressman Chris Collins (R-Clarence) have not made statements about DACA.
Some Republicans have said publicly that they have no problem protecting children of undocumented immigrants, but they viewed DACA as an abuse of executive power by the Obama administration. At least nine Republican-led states, including Texas, vowed to sue the Trump administration if it did not end DACA before Sept. 5.
Still, top party leaders like House Speaker Paul Ryan of Wisconsin have said it would be a mistake for the Trump administration to end DACA without a plan in place from Congress.
Democrats, of course, have been much stronger and harsher in their language. New York's pair of Democratic Senators, Chuck Schumer and Kirsten Gillibrand, both released statements slamming the Trump administration's plan to end DACA with the six-month delay period.
"These are young people who only want to be good, hardworking Americans," Schumer said. "The President ought to rethink this before he does huge damage to them and the economy."
Taheri had the same message for President Trump.
"We ask President Trump to revisit this, come meet us, and talk to these students," Taheri said. "And understand the impact this type of decision could have."
Even with a six-month grace period in enforcement, it's unclear if undocumented immigrants currently enrolled in DACA wold be able to renew their two-year permits during that time. Many of those questions may not be answered until the Attorney General's announcement Tuesday morning.
Ahead of that announcement, Bishop Richard Malone sent 2 On Your Side the following statement on behalf of the Diocese of Buffalo.
"I am fully behind the continuation of DACA," he said. "It would be a travesty, an act of injustice toward immigrant young people, to end this program."