FORESTVILLE, NY--- An 85-year-old veteran is looking for held in dealing with an eye sore next door to his home.
"I just don't have the get-up-and-go that I used to have," says Ken Trank.
But when the 85-year-old Korean war veteran makes his way to the windows of his home, he's greeted with a view of the crumbing building next door.
The two-story structure has a gaping hole leaving almost the entire side of the building wide open. It is the side that faces Trank's home. The portion of the wall that still exists appears to be off the foundation. In clear view, are rotted beams, wall and flooring. Chunks of debris regularly fall onto Trank's drive way.
"I try to keep an eye out for nails or anything glass or anything in the driveway," says Trank.
The job of clearing the debris has fallen to Trank's son-in-law.
John Rejewski says, "It's become so bad that it's a safety issue and you can see if this wall comes out, it'll slide across the driveway and take his porch out and everything."
On the front door of the deteriorating building is a notice that occupancy is forbidden. The date on the notice is April 3rd, 2012.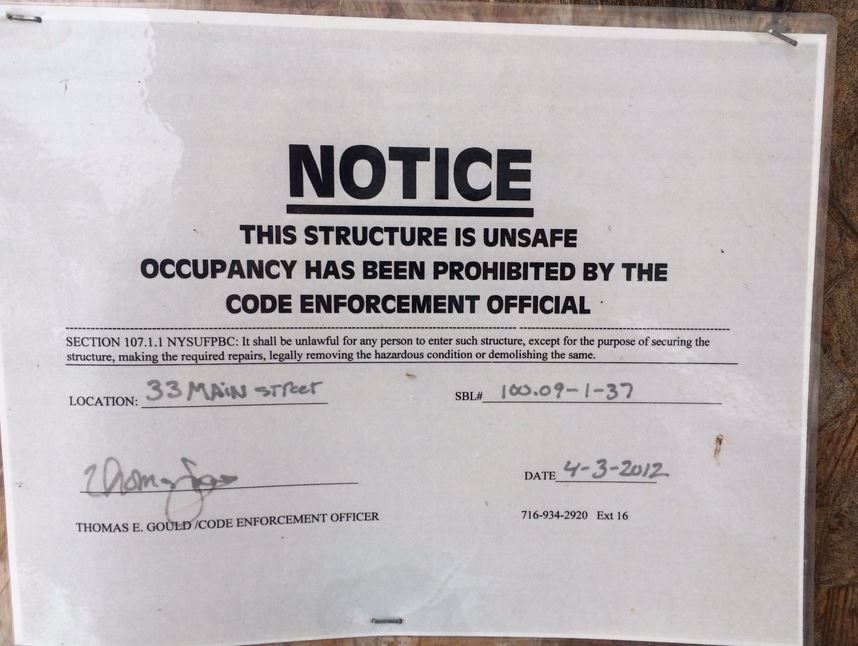 Who owns this property?
Chautauqua County records indicate it's Steven H. LeBaron of 3742 East Main Street in Fredonia. The address is a trailer park. Park management would not disclose whether LeBaron still lives there. But 2 On-Your-Side has learned LeBaron is two years behind on property taxes and owes an estimated $5,000.
Okay, then, who's in charge of policing this problem?
Originally, that job fell to Village of Forestville. But last fall, residents voted to dissolve the cash-strapped government. So, the problem was handed off to the town of Hanover.
Building Inspector Tom Gould says he is working with Chautauqua County Legislator George Borrello on this.
Gould says LeBaron does not have the money for repairs or demolition. And Gould says razing the dilapidated structure could cost in the neighborhood of $25,000-$30,000.
Meanwhile, Trank is forced into a front-row seat of the slow-motion disaster next door that's been going on for years.
Is he angry?
No, says Trank. "It's just not being able to get anybody to do anything. That bothers me more than than anything."