ATTICA, N.Y. - In this village of 2,500, finding a taxi is famously difficult. The phone book lists a number of cab companies serving rural Wyoming and Genesee counties, but they're typically scattered between Buffalo and Rochester, just far enough from Attica to keep you waiting for a while when you call one.
So when ride-sharing services expanded to upstate New York last week, lifelong Attica resident John Beaver couldn't help himself. He opened the Uber app. After taking a few Uber rides during a trip to Florida, he was curious how the whole operation might work here at home.
He ran into a familiar problem.
When Beaver glanced at his app, the nearest Uber driver was 20 minutes away-- in Batavia.
"I could probably walk home quicker than 20 minutes," Beaver said with a laugh, as he huddled with the late afternoon crowd at Louie's Lounge on Market Street.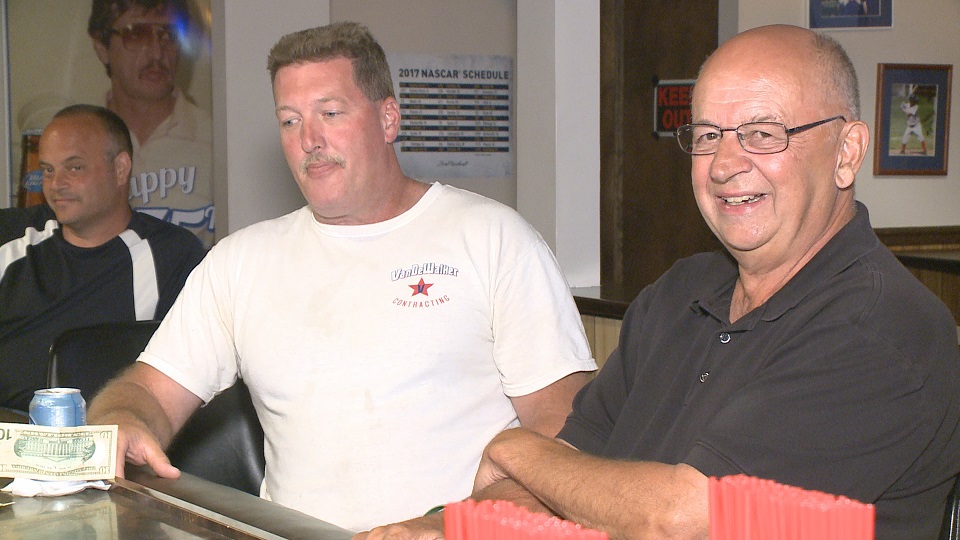 At Louie's, people had a lot to say about Uber. It's probably a better option than a cab, they agreed, especially since it might be cheaper. And they've had good experiences with it in other cities.
But so far -- and remember, we're only a week into this -- it's tough finding an Uber in Attica. During the dinner hour on Wednesday night, for example, there was not a single Uber driver available for a ride within a 10-mile radius of the village. Just as Beaver had found, the nearest driver we could find was located 11 miles north in Batavia, a slightly larger city of about 15,000 people.
But even in Batavia, the Uber app only showed one active driver on Wednesday evening.
Beaver said he wouldn't mind hailing an Uber from Batavia, but he'd like to see drivers sign up in his village. He's encouraged that a few of his friends seem interested in applying.
"People are talking about it," Beaver said. "People will use it, absolutely, especially out here."
More than 50,000 people have applied to drive for Uber in upstate New York, but a company spokesperson could not provide 2 On Your Side with any regional data or statistics for rural counties. In Chautauqua County, located 30 miles south of the Buffalo metropolitan area, County Executive Vince Horrigan said he believes about a half-dozen people have already started driving for Uber. That includes one man who already made a name for himself by making 20-mile round trips between Jamestown and Bemus Point during the Fourth of July weekend.
But anecdotes are all we have at this point-- there's no hard data about where Uber has taken off or where it's slow to pick up. It's also impossible to determine where Lyft -- or any other service, for that matter -- has expanded beyond the urban centers.
Still, a quick look at the Uber app reveals a lot about the contrast between urban and rural availability. In downtown Buffalo, the app shows an Uber driver at nearly every corner at any given moment. In Batavia, though, there was just that one little dot on the screen, representing a lone driver a few blocks away from Main Street in the city.
And as it turns out, that one driver hasn't even offered a ride yet to any passengers. After a quick scavenger hunt in Batavia, we learned her name is Ashley Singer, and she told us in an interview that she's still testing the waters, so to speak.
Singer applied with Uber a month ago and remains active on the app, but she's had to turn down all of her requests from passengers so far because her other part-time job is keeping her occupied.
Soon, though, she'll pick up her first passenger.
"I like driving, so, you know, it'll be interesting to see what kind of people need rides. And there will be interesting people to talk to," Singer said.
Singer would even be willing to pick up our friends from Louie's Lounge in Attica.
"Oh yeah," she said. "I would be willing to drive any distance to help somebody."
Until he finds some local Attica drivers, John Beaver will just have to wait the 20 or so minutes for an Uber driver to reroute from Batavia, if that's what he wants.
It's better than the alternative, at least.
"We don't have cab access out here," he said. "So 20 minutes is not a big deal."