ORCHARD PARK, N.Y. - Six months ago, Patti Conta-Bova learned she had Stage IV lung cancer. It had spread to lymph nodes in her chest, as well as her brain, prompting multiple chemotherapy treatments and radiation.
Patti and her husband, David, suddenly had to figure out how to break the news to their three children, not to mention the rest of her immediate and extended family.
At 47 years old, it was not a situation she had prepared for, to say the least.
"But I felt this overwhelming strength," Patti said. "I said, 'you know what, I have three beautiful kids at home that are waiting for me. You're gonna go home, you're gonna walk in that living room, and you're gonna explain it to them. And you're gonna keep those kids' lives as normal as possible.'"
So they did.
Patti, a South Buffalo native, began traveling from her home in Orchard Park to Roswell Park Cancer Institute for treatment. David made those 20-mile trips to downtown Buffalo right along with her, and her kids started pitching in around the house in Orchard Park to make sure everything kept running smoothly.
A few months went by. Fall turned to spring, and the calendar flipped to February.
One day, while they were driving in the car, Sophie started to notice that her dad looked a little funny.
Dad, you look yellow, she told him. David looked in the rearview mirror. Oh my god, he said, noticing that he did indeed look yellow. He assumed it was serious -- maybe hepatitis, he thought -- so he got himself checked out at the doctor.
David was diagnosed with early-stage pancreatic cancer.
"I did not see that coming. And, I gotta say, I felt the same way for Patti, when she was diagnosed. She called me out of work, and when I joined her and the doctor put that CAT scan up, and I saw that tumor, I thought, 'woah, what is going on here?" David said. "It's been really, really hard."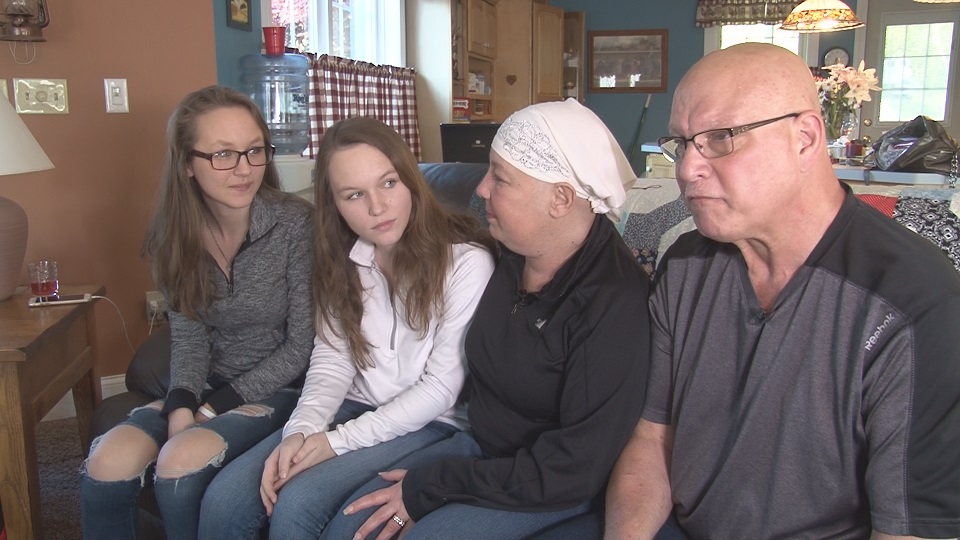 David has started to understand the unbearable fatigue that his wife had experienced for months following her diagnosis. It's also a challenge for both Patti and David to schedule treatments and appointments around each other, all while they juggle the normal demands of family life at home.
Their daughters, Sophie and Nikole, are still with them in Orchard Park. Their son, Justin, joined the Air Force in Texas but checks in frequently with FaceTime. The kids have remained upbeat, even in the face of unbelievable adversity in their family.
"I have to tell you, when I'm walking into Roswell, I'm used to walking in with my wife," David said. "And when I'm walking in now to get treatment... I am just like, I can't believe I am walking in to get treated. It's almost surreal. It's just... hard to believe this is happening. That we got cancer three months apart."
Patti's sister, Kim, is planning a benefit for the family on July 22 at St. Teresas School Hall (33 Mineral Springs Road in South Buffalo). The event will run from 2 p.m. to 7 p.m., with $25 tickets sold at the door.
The family has significant medical costs, so donations will be accepted to help cover some of those expenses. A GoFundMe page has already raised more than $1,000 as of Wednesday afternoon.
"When you see other people who have cancer, you have no idea what it's like until it hits home," Kim said. "They are my best friends. They are my loves. And we're gonna do this. We're gonna fight this."
When Kim told her sister and brother-in-law she had decided to plan a benefit, it brought tears to David's eyes.
Kim had surprised them with the news.
"It's been overwhelming. The support and love has been absolutely overwhelming," Patti said, "from our family, to our friends, to childhood friends, to people we don't even know who've reached out to us. It really means so much from the heart, from David and I."
There's some encouraging news for both Patti and David.
Patti's tumor has not only reduced in size, but doctors report it has stopped growing. Meanwhile, David's doctors at Roswell are treating him with chemotherapy to shrink his tumors and move forward with surgery to remove his cancer.
At this point, the family is looking forward to a day when chemotherapy, radiation, cancer treatments and trips to Roswell are all but distant, faded memories.
They want life to return to the way it was, and they believe that it will.
"I don't want any tears shed," Patti said. "Everything's gonna be OK."