BUFFALO, N.Y. - You may have noticed a green tent parked in the middle of Lafayette Square on Wednesday.
You may have also noticed a sign right next to the tent, carrying a message printed in all capital letters.
"I SUPPORT SAFER CONSUMPTION."
Throughout the afternoon, people strolled through downtown Buffalo and stumbled on this unorthodox display, which was sponsored by the Drug Policy Alliance. The safer consumption referred to drug consumption, and the tent referred to a model for a "safer consumption space," also known as a "supervised injection facility." These facilities, as 2 On Your Side reported last year, are billed by advocates as a potential solution to the opioid epidemic. Supervised injection sites have operated for years in other countries, including Canada, and they have just been approved for use in both Toronto and even Seattle.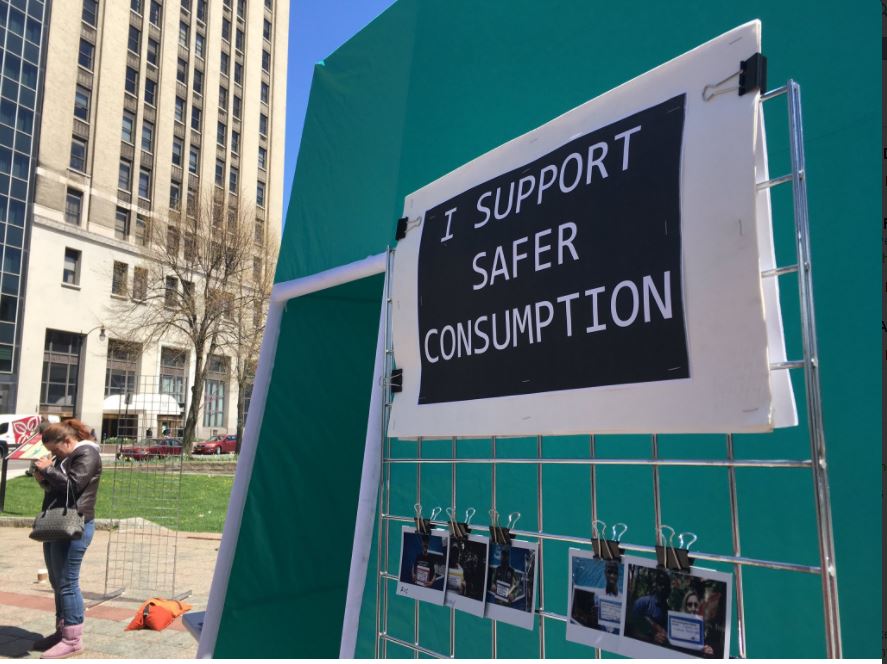 It's all part of the "harm reduction" model, which focuses more on rehabilitation and treatment rather than prosecution. In theory, a safer consumption space could allow people struggling with addiction to use drugs -- including prescription opioids and heroin -- under the supervision of medical staff trained to reverse overdoses and offer resources for long-term treatment.
Lindsey Nieves, a Buffalo native, was one of the people who stumbled across the green tent on this sunny Wednesday afternoon at Lafayette Square. She's now been clean for exactly one year, two months and two days.
And she said she was intrigued by what she saw from the Drug Policy Alliance.
"I do think it would have helped me. I think it would have possibly made me want to reach out to people," Nieves said. "I think it would have made me feel less guilty, and less shameful, and maybe I would have wanted to take steps toward my recovery instead of feeling like I had to hide it."
Kassandra Frederique, the director of the Drug Policy Alliance's New York office, said the safer injection sites could serve as a vital tool to fight the opioid epidemic in Erie County. The county's health department reported Wednesday that it has already confirmed 24 opioid-related deaths in 2017, with 114 cases still unconfirmed pending toxicology results.
"We have to remember that we are losing lives every day," Frederique said. "And the only way we're going to be able to stop losing lives is if we center the people that are most harmed. What people need right now, is the ability to stop dying."
The Drug Policy Alliance is touring the state with its traveling tent, but supervised injection sites are not currently authorized to operate anywhere in the state of New York.
Assemblywoman Linda Rosenthal, a Democrat from Manhattan, plans to introduce a bill to authorize the use of supervised injection facilities. Her office told 2 On Your Side that she plans to officially file the legislation as early as this month.
However, it's unclear what type of support that bill would receive from other legislators.
Multiple state lawmakers representing Western New York, for example, told 2 On Your Side on Wednesday that they do not support the idea of such a site.
Senator Chris Jacobs (R-Buffalo), the chair of the State Senate's Task Force On Heroin And Opioid Addiction, said in a phone interview from Albany that he would rather spend money on other solutions, such as medication-assisted treatment centers. Jacobs said he's open to any new ideas, but he has not seen broad enough research to convince him supervised injection centers are the right solution.
"I understand the well intention of this," Jacobs said, "but I really would rather focus on areas that I think we can achieve those goals in a much better manner."
A spokesperson for Assemblyman Sean Ryan (D-Buffalo) said he also continues to reject the idea of a supervised injection site. Ryan would rather pool resources into expanding treatment access and needle exchange programs.
Dr. Gale Burstein, the Erie County Health Commissioner, has also long been opposed to the sites and reaffirmed her position in a statement released on Wednesday.
"Safer consumption spaces (SCS)/Supervised Injection Facilities (SIF) are one of the harm reduction tools in the toolbox to prevent opioid related overdose deaths," Burstein said. "Challenges include cost (~$4 million/year for Vancouver safe injection site) and legality where these sites are illegal under federal law and could be closed by federal enforcement at any time. These sites are currently not legal or supported by NYS."
The city of Seattle, however, is moving forward with two sites, despite approving the plan without consulting federal law enforcement, according to the Seattle Times.
North of the border, the Toronto Star reported that the city of Toronto approved three sites. Canada is one of the countries praised by the Drug Policy Alliance, which points to research indicating Vancouver's injection site has caused a significant drop in overdoses.
"If you look at the comments of the detractors of legislators that say, 'this is crazy, this is an experiment,' then those people haven't done their research," Frederique said. "This is in over 100 places -- there are over 100 safer consumption sites in the world, in over 66 cities, and one of the oldest is 30 years old. This is not an experiment. This is something that has worked."
Some doctors like Gale Burstein, however, remain unconvinced. Like Senator Jacobs, she also said Erie County should focus on expanding medical-assisted treatment. She also noted that the county is continuing its Narcan training, in addition to maintaining the new addiction hotline. The county is also implementing a program with law enforcement to help people struggling with addiction.
For people like Nieves, though, a safe injection center is a new way to battle an epidemic that has claimed hundreds and hundreds of lives.
She said she's glad she's not one of those statistics.
"I think people need to shift the focus off the judgment, and take their focus more onto reality," Nieves said. "Which is, people are using these drugs. Not liking it isn't going to make it stop. Instead of judging these people and having these feelings, we need to focus on saving these people's lives."