BUFFALO, N.Y. — About 12,000 students at SUNY four-year colleges, 5,300 at SUNY community colleges and 4,700 at CUNY institutions are receiving free tuition this fall as part of the state's new Excelsior Scholarship program.
The state released new figures showing how many students at each college are getting free tuition through the new state program that covers tuition at SUNY or CUNY schools for families with income less than $100,000 a year.
About 22,000 students were accepted into the Excelsior program, while another 23,000 who applied were deemed eligible for other tuition-assistance programs, such as TAP and Pell, because their income fell below $80,000 a year, Gov. Andrew Cuomo's office announced Sunday.
Tuition at four-year SUNY schools is $6,670 a year. The rate varies among community colleges.
In Western New York, 4,932 students are attending a college, university or community college on the Excelsior Scholarship.
The University at Buffalo has the most Excelsior scholars of any school in the state with 1,576 enrollees.
Here's a breakdown of the number of Excelsior enrollees attending a SUNY 4-year schools in Western New York:
University at Buffalo - 1,576
The College at Brockport - 631
SUNY Fredonia - 553
SUNY Geneseo - 517
Buffalo State College - 487
Alfred State College - 379
Alfred University - 7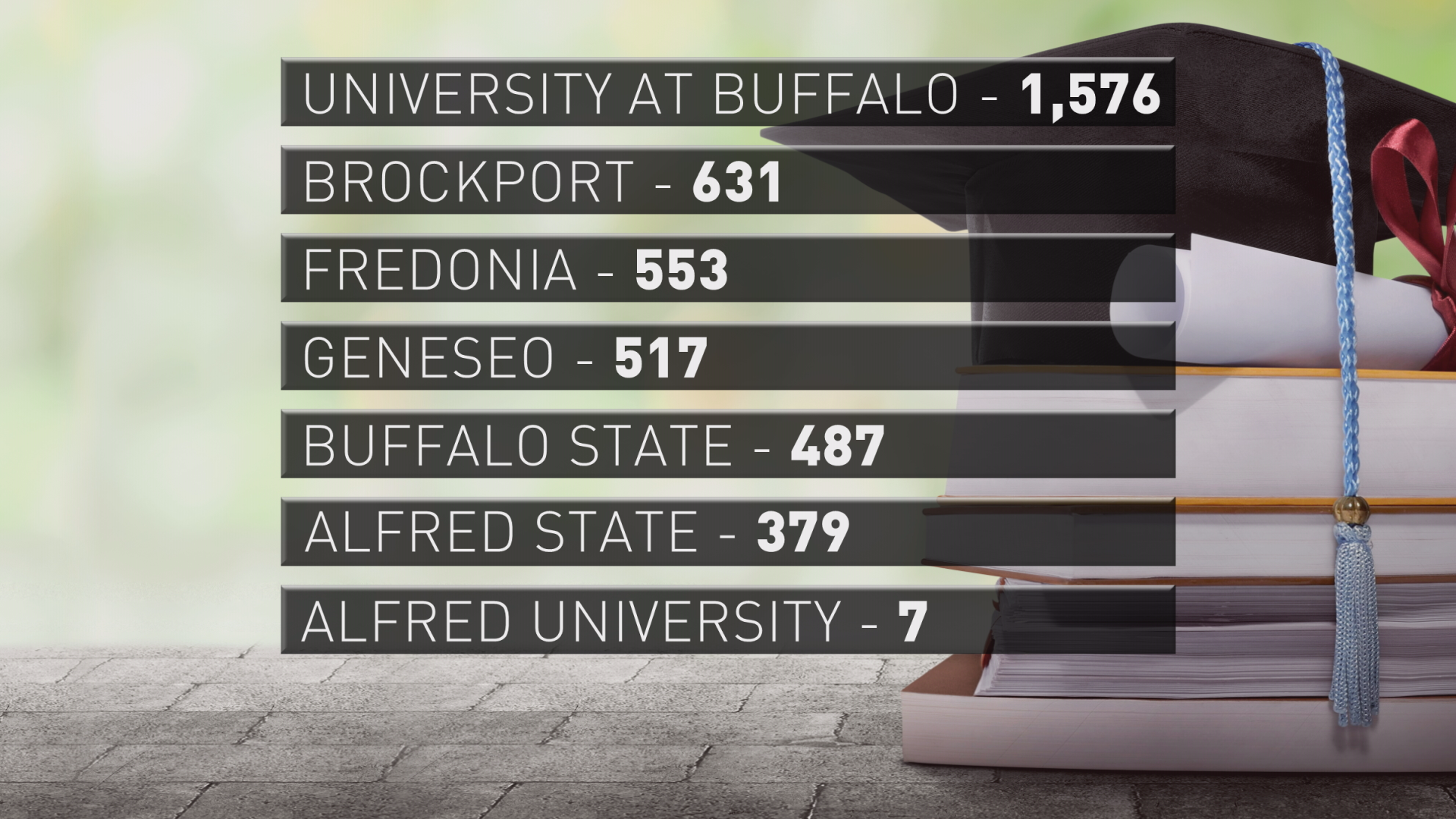 The following is a breakdown of students attending a SUNY community college in Western New York thanks to the Excelsior Scholarship:
Erie Community College (all campuses) - 299
Niagara County Community College - 225
Genesee Community College - 145
Jamestown Community College - 188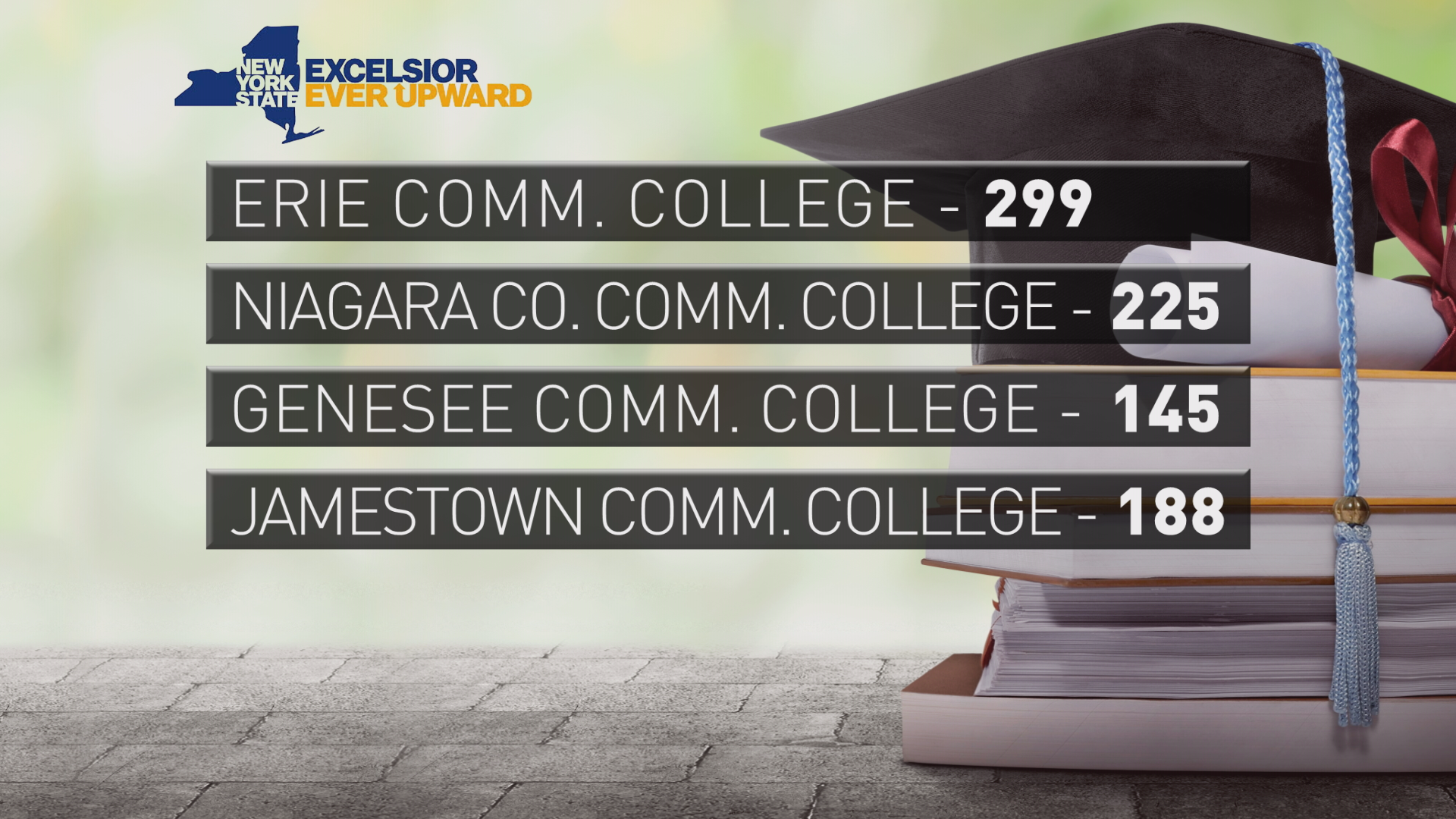 "Excelsior offers students a great opportunity to get a quality SUNY education and to reduce their student loan debt," David Mihalyov, a spokesman for SUNY Brockport, said in a statement.
"We are happy with the number of students who are already benefiting, and we expect the number to grow year by year."
Overall, the state said, 96,000 students applied for assistance through the Excelsior program last summer -- so about half received tuition assistance. There are also about 6,000 applications under review.
State officials said the acceptance rate is consistent with the TAP and Pell programs, but it did not provide a total of how many applicants there were by college.
The program also appears to be a work in progress because it was approved in April by the state Legislature and installed for this fall.
Colleges said, in many cases, students are not getting the free tuition until they are officially certified later in the semester. Until then, students may have received a deferral on their accounts, which means the colleges are waiting until the funds are disbursed and not asking the student to pay the tuition in advance.
"A college degree now is what a high school diploma was 30 years ago -- it is essential to succeed in today's economy," Cuomo said in a statement Sunday. "Our first-in-the-nation Excelsior Scholarship is designed so more New Yorkers go to college tuition-free and receive the education they deserve to reach their full potential."
Free tuition is afforded to students at SUNY's 64 campuses if their household income is less than $100,000 this year. The threshold goes to $110,000 next year and $125,000 in 2019.
For private colleges, New York this year started a similar program, called the Enhanced Tuition Awards. It allows private colleges and the state to split up to $6,000 in tuition costs for students. But just 29 out of 95 private colleges are participating this year.
The eligibility for both programs, in addition to the income requirements, includes being enrolled in college full-time, completing 30 credits per year, getting good grades and staying in New York for four years after college, if a hardship waiver is not approved.
"The Excelsior Scholarship has opened up endless opportunity for our middle-class families," Harvey Stenger, the president of Binghamton University, said in a statement. By removing the burden of tuition for families making $125,000 or less, we can attract more talented, qualified students to our campuses who may have been discouraged by the rising costs of attending college."
Includes reporting by Joseph Spector with the USA Today Network Albany Bureau | @GannettAlbany