A gunman opened fire Friday afternoon at Fort Lauderdale-Hollywood International Airport in Florida, killing at least five people and wounding eight others, the Broward County Sheriff's Office confirmed. The shooting happened in the baggage claim area at Terminal 2, where Delta Airlines occupies most of the gates.
"I was dodging bullets and trying to help people get out of the way," an eyewitness, Mark Lea, told NBC News.
"At first we thought it was firecrackers," he said. "Everyone started screaming and running. The shooter made his way down through baggage claim. He had what looked like a 9mm and emptied his entire clip. People were trying to run."
Terminals 1 & 2 at the airport have both been evacuated. Passengers from Terminal 1 were seen crossing the airport runways to evacuate off-airport property.
"There will be no movement in or out of the airport until our SWAT teams confirm that it is safe." Broward County Sheriff Scott Israel said at a news conference.
There were reports of a second shooting scene inside of a nearby parking garage, but the Sheriff's says they have not confirmed another shooting incident.
Florida U.S. Senator Bill Nelson says the shooter has been identified as Esteban Santiago, based on his military ID. Santiago is a 26 year old from New Jersey, according to NBC News. It is unclear what his motivation for the shooting was at this point.
NBC News reports that Santiago flew into the airport, picked up his bags, then began shooting.
Sheriff Israel reports that the suspect was taken into custody without incident and is being questioned.
He says it is not clear whether the incident is being considered a terrorist attack and at this point, they believe the suspect acted alone.
Some passengers have been out on the airport tarmac for more than two hours due to the evacuation.
All flights in and out of the airport have been temporarily suspended. The FAA has issued a statement about the ground stop.
✈️ TRAFFIC ALERT: Updated FAA statement on @FLLFlyer status: pic.twitter.com/FnpfqNb4NK

— The FAA (@FAANews) January 6, 2017
Former White House press secretary Ari Fleischer tweeted he was at the airport at the time of the shooting and "everyone is running." He later tweeted that "all seems calm."
All seems calm now but the police aren't letting anyone out of the airport - at least not the area where I am.

— Ari Fleischer (@AriFleischer) January 6, 2017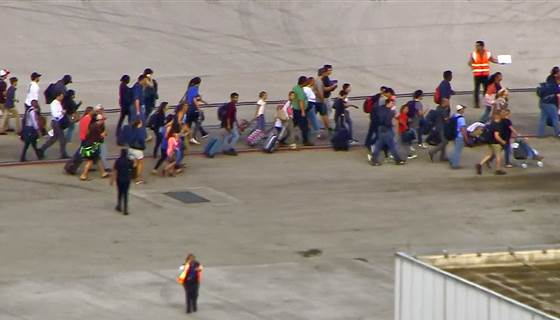 The airport says it receives over 73,000 travelers each day.